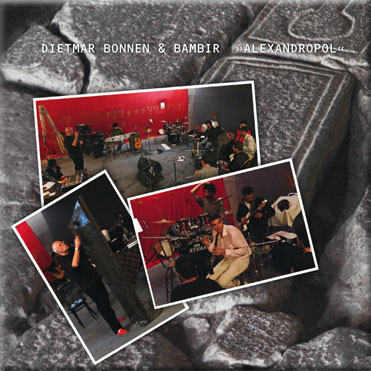 1 Blocks 5'04
Musik: Dietmar Bonnen
2 Ryoan-Ji 8'00
Musik: Dietmar Bonnen
3 Hommage à Komitas 4'09
Musik: Dietmar Bonnen
4 Alexandropol 5'39
Musik: Dietmar Bonnen
5 Everybody Wants To Go To Heaven 10'25
Musik/Text: Don Nix
6 Solovki 7'57
Musik: Dietmar Bonnen
Bonus: Everybody Wants To Go To Heaven 7'28
(Sound Check) Musik/Text: Don Nix
OBL11.6
DDD GEMA
c OBST 2011 p Bonnen 2011
TT: 48'44
Ausführliche Informationen zur Bootleg-Reihe >>
Further information to the bootleg-series >>
Dietmar Bonnen & Bambir »Alexandropol«
live-Mitschnitt aus dem Stadttheater Gyumri, Armenien September 2008
Abschlusskonzert der Master Class von Dietmar Bonnen zum Thema »Offene Formen und Graphische Partituren« im Rahmen der »6. Gyumri Internationalen Biennale für Zeitgenössische Kunst«
Dietmar Bonnen: Leitung, Gesang, Klangskulptur
BAMBIR Narek Barseghyan: Gitarre – Arik Grigoryan: Flöte, Gesang – Arman Kotcharyan: Bass – Vardan Paremuzyan: Schlagzeug, Stuhl plus Studenten der Musikhochschule Gyumri: Duduk, Klarinette, Flöten, Kemanche etc.
Besonderen Dank an Vazgen Pahlavuni-Tadevosyan, der dieses Projekt ermöglichte
Mastering: Gagga Deistler Foto/Cover/Layout: Peter Hölscher
Dietmar Bonnen & Bambir »Alexandropol«
live recording from Gyumri Theatre, Armenia September 2008
Final concert of the master class with Dietmar Bonnen on »open forms and graphic notations« at the »6th Gyumri Biennial for Contemporary Art«
Dietmar Bonnen: director, vocals, sound sculpture BAMBIR Narek Barseghyan: guitar – Arman Kotcharyan: bass – Arik Grigoryan: flute, vocals – Vardan Paremuzyan: drums, chair plus students of the Gyumri Conservatory for traditional instruments: duduk, clarinet, flutes, kemanche etc.
Special thanks to Vazgen Pahlavuni-Tadevosyan who made this project possible
Mastering: Gagga Deistler Foto/Cover/Layout: Peter Hölscher

Im Jahr 2008 arbeiteten während der 10. »Internationalen Gyumri Biennale für zeitgenössische Kunst« der Komponist Dietmar Bonnen und der Künstler Peter Hölscher mit der armenischen Folk-Rock-Gruppe BAMBIR zusammen.
Organisiert wurde diese Biennale von der GCCA »Gyumri Centre of Contemporary Art«, einer NGO, die von unabhängigen Künstlern auf Initiative des lokalen Künstlers VAZO im Jahre 1997 gegründet wurde. Es gibt keine vergleichbare Biennale für zeitgenössische Kunst zur Gyumri Biennale im post-sowjetischen Raum, die über einen solchen Zeitraum ohne Unterbrechung fortgeführt wird.
Gyumri, die zweitwichtigste Stadt der Republik Armenien, ehemals ein bedeutendes kulturelles Zentrum des Landes, wurde nicht nur mit den Bedingungen der postsowjetischen Zeit konfrontiert, sondern auch mit dem Trauma des großen Erdbebens vom Dezember 1988.
Die Biennale spielt eine wichtige Rolle in der Revitalisierung des kulturellen Lebens in Gyumri. Die erste fand zehn Jahre nach dem Erdbeben statt und stand unter dem Motto »Erforschung, Zeit und Raum«.
In 2008, Dietmar Bonnen, composer, and Peter Hölscher, sculptor, collaborated with the Armenian folk rock group BAMBIR during the 10th »Gyumri International Biennial of Contemporary Art«.
Organised by GCCA, »Gyumri Centre of Contemporary Art«, an NGO founded by independent artists on the initiative of a local artist, VAZO, in 1997, there is no analogue contemporary art biennial to Gyumri biennial in post soviet space which has been going without interruption for such a length of time.
Gyumri, second city of the Republic of Armenia, once an important cultural centre for the country, was then, not only facing a post soviet situation, but also the trauma of a great earthquake which took place in December 1988. The Biennial plays an essential role in the revival of cultural life in Gyumri, the first one took place 10 years after the earthquake with the motto »Investigation, time and space«.