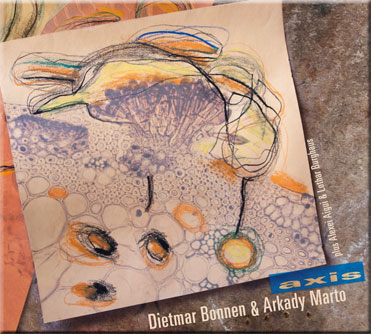 axis
Dietmar Bonnen & Arkady Marto
plus Alexei Aigui & Lothar Burghaus
1 mors vite propitia
Anonymous (french 13th century)
7 circle in the round live @ DOM, moscow 17. april 2011
Miles Davis
Dietmar Bonnen: piano, Arkady Marto: electronics, Alexei Aigui: violin, Lothar Burghaus: clarinets
2 – 6 Axis (may 2011)
Arkady Marto & Dietmar Bonnen
Arkady Marto: electronics, Dietmar Bonnen: electronic strings
Concert Recording: Mikhail Spassky
Mix/Mastering: Bonnen/Deistler
Paintings: Bonnen/Vazo
Design: Peter Hölscher
Total time: 47'01
DDD GEMA c OBST 2011 p Bonnen/marto 2011
axis
Am 17. April 2011 spielten Dietmar Bonnen, Alexei Aigui und Lothar Burghaus ein Konzert im Club DOM in Moskau. Für zwei Stücke luden sie den befreundeten Moskauer Elektronik-Musiker Arkady Marto ein, ihre einzelnen Instrumentallinien live zu bearbeiten, sodass sie auf die Modifikationen während des Spielens wiederum reagieren konnten und mussten.
Die beiden Stücke sind: »mors vite propitia«, eine französische Melodie des 13. Jahrhunderts, deren Komponist unbekannt ist, und »circle in the round«,
eine Melodie von Miles Davis.
Eine Woche später fand Arkady Marto die während des Konzertes aufgenommenen Fragmente im Speicher seines Samplers. Aus diesem Material entwickelte er fünf Impromptus, die er an Dietmar Bonnen schickte. Dieser arrangierte die Teile zu einer Suite und komponierte dazu eine Musik für elektronische Streicher, die aus einer einzelnen Zwölftonreihe entwickelt wurde.
Der resultierende Zyklus »axis«, dessen Spannung aus der Liaison von Dodekaphonie und modalen Samples entsteht, wird auf dieser CD durch die beiden live-Stücke gerahmt, wodurch die einzelnen im Konzert entstandenen Elemente leicht zu identifizieren sind.
axis
On the 17th of April, 2011 Dietmar Bonnen, Alexei Aigui and Lothar Burghaus gave a concert in the DOM Club in Moscow. For two of the pieces they invited their friend Moscovian electronic musician Arkady Marto to modify live their single instrumental lines, so that they could and had to react to these modifications while performing.
These two pieces are: »mors vite propitia«, a French melody from the 13th century by an anonymous composer, and »circle in the round«, a melody by Miles Davis.
One week later Arkady Marto found the fragments recorded during the concert in the internal memory of his sampler. From this material he developed five impromptus which he sent to Dietmar Bonnen. Bonnen arranged the parts into a suite and composed in addition music for electronic strings which was developed from one single twelve tone row.
The resulting cycle, »axis«, whose tension comes from the liaison of dodecaphony and modal samples, is framed on this CD by both live pieces, so the single elements originated in the concert are easily to be identified.