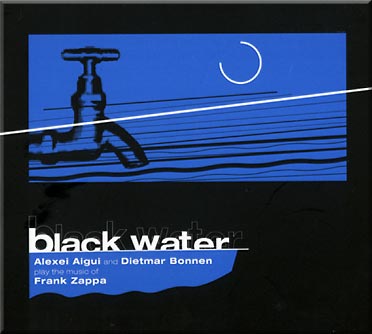 Alexei Aigui and Dietmar Bonnen play the music of Frank Zappa
1 how could I be such a fool 4'33
2 let's make the water turn black 1'55
3 sofa 9'08
4 the idiot bastard son 3'25
5 oh no 1'28
6 black napkins 8'39
7 mom & dad 2'55
8 the sheik yerbouti tango 12'05
total time 44'08
all compositions by Frank Zappa
Alexei Aigui: violin
Dietmar Bonnen: piano
Denis Kalinsky: cello (4+8)
Anja Trummer, Annette Meyer, Brigitte Jaeger, Gunda Jueterbock, Hille Kortevoss, Ilona Mitze, Katrin Borgers, Lorena Soriano-Eupen: background vocals (6)
recorded @ loft, Cologne 25th september 2002 (4+8), 26th may 2003
recording: Gagga Deistler
mix: Bonnen/Deistler
mastering: Deistler
production: Aigui/Bonnen
cover artwork: Denis Mikhaylov

CUCAMONGA – 26 JANUARI 2004
In een rockband zitten, dat wou de jonge Dietmar Bonnen toen hij wat veel naar Frank Zappa had geluisterd. En van het ene komt het andere: deze klassieke Duitse pianist heeft net een cd met Zappa-composities uit.
»Let's make the water turn black«. THE MOTHERS OF INVENTION zongen het in 1968 op Zappas hippie-parodie »We're only in it for the money«. Maar de instrumentale versie van daarnet is van de Duitse pianist Dietmar Bonnen en de Russische violist Alexei Aigui. Het staat op hun nieuwe cd »Black water« met nog 7 Zappa-covers. Dietmar Bonnen is klassiek geschoold, maar rocker van geest. Bijvoorbeeld richtte hij in '81 het avant-garde rockensemble FLEISCH op. En die bizarre trekjes kreeg hij al toen hij 16 was.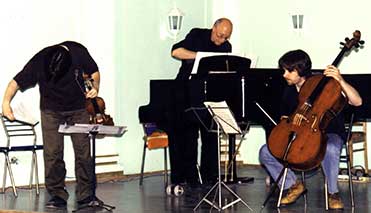 DB: It starts in a time when I stopped my classical education and said: "Now I want to play in bands and improvise and play rock music". And then I've heard, for me, the first Zappa CD, »Apostrophe«, and I was very impressed about the percussion parts and the parts that sounded like academic contemporary music, but played by rock musicians. And I said: "If they can do that I want to do that too". You can combine different styles.
Ja! Naar een cd van Zappa luisteren, kan levenslange gevolgen hebben! Dietmar Bonnen was dus meteen goed vertrokken: hij hing zijn tupelo aan de haak en koos voor het avontuur. Maar waarom vond hij dan zijn zin niet in de hedendaagse klassiek?
DB: The normal contemporary academic music stagnated. It was the serial music, everything was predetermined. And for me there was not enough fun in the music. It was all very complicated and very serious. And like most of the people in this time you don't want to do something like that when you are a teenager. And then I've heard this music and I saw he can do both.
Je bent jong en je wilt wat! En zo komt het dat Dietmar Bonnen nu al drie cd's met Zappa-composities heeft gemaakt. De twee vorige waren met een kwartet. Voor »Black water« beperkte hij zich tot viool en piano, maar dat was toch genoeg om verschillende richtingen uit te kunnen:
DB: The "Black water" CD is in two parts: songs that are very close to the originals, that means that we play it very exactly. We had some scores, we made arrangements and we play it very originally, like »Idiot bastard son« or »Mom and dad«. And another part is that we take some themes and play with it. We use it as a vehicle to improvise with it, to do very long improvisation. So we had, I think, a two part CD: original Zappa played with violin and piano and, like jazz, improvising on Zappa pieces.
»The idiot bastard son« in de versie van Dietmar Bonnen en Alexei Aigui. Het is een van de covers op »Black water« die heel dicht bij het origineel van Zappa aanleunen, qua melodie dan toch. En ik zei het daarstraks al: Alexei Aigui is een Russische violist. Wij bij Cucamonga kenden hem helemaal niet.
DB: We met Alexei Aigui in Moscow. We gave a concert there and after the concert we met. The end of the tour was again in Moscow. So we said: "Let's do one song together". We did it and stayed in contact from this time on. We were one or two times a year in Russia on tour with different projects and every time when we are in Moscow we work together. Alexei is married now in Paris. And he is half a year in France. So it's much easier to work.
En zo is Alexei Aigui nu ook into Zappa. Want Franky was wel nogal nieuw voor die Rus. Maar dat heeft ook voordelen – dat hij niet alles van hem door en door kent.
DB: He is more free with it because he only knows a part of Zappa's music. I think I know all his recordings. But Alexei knows only the pieces we are working on. Because normally he does only his own stuff as a composer. He has his in Russia very famous ensemble, it's called ENSEBLE 4'34'', after the Cage piece. They do only Alexei Aigui music. This working on compositions of other composers is not his normal work. So I bring something and say: "What about this?" And he says: "Oh, not so interesting for me". Or he says: "Oh, I like it very much, let's do it." But he's not trained in historical hearing of all Zappa music.
Zjakki Willems cucamonga@radio1.be