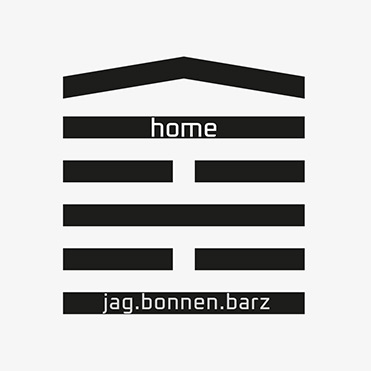 home – jag.bonnen.barz
1 Shady Land 10'24
2 Ներքին լույս 13'26
3 The Butterfly 5'58
4 Equinox 8'10
5 Sad Songs 7'12
6 Aussicht 10'17
The Mulberry Tree [Bonus Track]
Music: Jag Barseghyan, Dietmar Bonnen, Narek Barz
including a little melody by George Harrison
Texts: fragments from the Tao Te Ching (44, 47, 56, 80, 81) adapted by Jag,
Friedrich Hölderlin, Bonnen
Jag: vocals, acoustic guitar
Bonnen: vocals, piano, prepared piano, rhodes, electronics, monotron
Barz: vocals, electric guitar, electronics
Recording: Gagga Deistler @ Loft, Cologne September 2019
Mix/Mastering: Deistler/Jag/Bonnen/Barz – Project 69
Concept/Design: trio27/BAMBIR
Hexagramm 37 from the I Ching
In cooperation with the Goethe-Zentrum Eriwan
DDD GEMA c Bonnen 2019 p OBST 2020
P330.53 www.obst-music.com
TT: 69 minutes
Fotos: Peter Hölscher, Dietmar Bonnen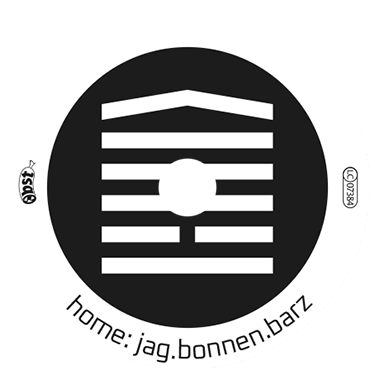 HOME – so benannten wir unser gemeinsames Werk, welches im September 2019 entstand und nun in der Form einer CD seinen musikalisch-sprachlichen Ausdruck findet.
Wir – das sind Jag Berseghyan und sein Sohn Narek Barz vom armenischen Ensemble BAMBIR und Dietmar Bonnen, die wir uns mehrfach trafen in den letzten 12 Jahren, immer für kurze Zeit und immer in intensivem persönlichen, spirituellen, kreativen, musikalischen Austausch ...

Chia Jen – Das auf der CD abgebildete Hexagramm 37 Chia Jen stammt aus dem I Ching und besagt in etwa: Wenn wir vor irgendeiner Art von Schwierigkeit stehen, erlaubt uns die Rückkehr nach Hause, in die Familie, bedingungslose Unterstützung zu empfinden. Manchmal ist die Familie der Freundeskreis.
HOME – als dieses erlebten wir, die wir aus weit entfernten Ländern und Kulturen kommen, unsere Zusammentreffen: wir verstanden und unterstützten uns: musikalisch, kompositorisch, kreativ ...
Innerhalb einer Woche in Köln entstand unsere Suite; wir fühlten, dass wir auf ein gemeinsames Wissen zugreifen konnten.
Melodie – Das Universum selbst ist wie eine Melodie. In alter Zeit pflegte man zu sagen: Eine Melodie ist das Wesen der Schöpfung und das beste Heilmittel gegen Hass.
Hölderlin – Die Verbindung der daoistischen Gleichnisse zu den späten Gedichten Hölderlins, die er mit Scardanelli signierte, fügt sich wie selbstverständlich. Friedrich Hölderlin, dessen 250. Geburtstag in diesem Jahr gedacht wird, versuchte wie Laozi und Zhuāngzǐ, der Natur und dem Menschen – und seinem Verhältnis zu ihr – durch assoziative Texte näherzukommen.
PS – Das Hexagramm 37 hatten wir vor Beginn der Pandemie zum Covermotiv gewählt.
Personalia – BAMBIR ist Musikkollektiv und Denkschule. In über 40 Jahren sind – beginnend mit Jag Bambir – mehr als fünfzig Musiker durch seine Reihen gegangen. 2008 auf der internationalen Kunstbiennale im armenischen Gyumri arbeiteten einige der BAMBIR-Musiker erstmalig mit Dietmar Bonnen zusammen, der als Teil des Künstlerkollektivs Trio27 geladen war. Aus dieser Zusammenarbeit entstand die CD »Alexandropol«, ein live-Mitschnitt aus dem Stadttheater von Gyumri. In den darauffolgenden Jahren traf man sich in unterschiedlichen Ländern, um gemeinsam musikalische Projekte zu erarbeiten und aufzuführen.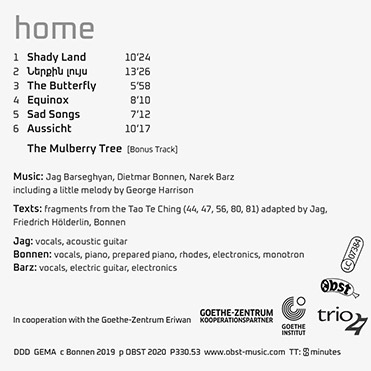 HOME – is the name of our joint work, which was written in September 2019 and now finds its musical and linguistic expression in the form of a CD.
We – that is Jag Berseghyan and his son Narek Barz from the Armenian ensemble BAMBIR and Dietmar Bonnen, who we met several times in the last 12 years, always for a short time and always in intensive personal, spiritual, creative, musical exchange …
Chia Jen – The hexagram 37 Chia Jen shown on the CD comes from the I Ching and says: When facing any type of difficulty, returning home, to the family, allows us to feel unconditional support. Sometimes the family is the circle of friends.
HOME – this is what we, who come from far away countries and cultures, experienced in our encounters: we understood and supported each other: musically, compositionally, creatively …
Within one week in Cologne our suite was created; we felt that we could access a common knowledge.
Melody – The universe itself is like a melody. In ancient times they used to say that a melody is the essence of creation and the best healer against hatred.
Hölderlin – The connection between the Daoist parables and Hölderlin's late poems, which he signed with Scardanelli, fits together as a matter of course. Friedrich Hölderlin, whose 250th birthday is commemorated this year, tried, like Laozi and Zhuāngzǐ, to approach nature and man – and his relationship to it – through associative texts.
PS – We had chosen the hexagram 37 as cover motif before the pandemic began.
Personalia – BAMBIR is a music collective and school of thought. Over the last 40 years – starting with Jag Bambir – more than fifty musicians have passed through its ranks. In 2008 at the international art biennial in Gyumri, Armenia, some of the BAMBIR musicians worked for the first time with Dietmar Bonnen, who was invited as part of the artists' collective Trio27. This collaboration resulted in the CD »Alexandropol«, a live recording from the city theatre of Gyumri. In the years that followed, they met in different countries to work on and perform musical projects together.