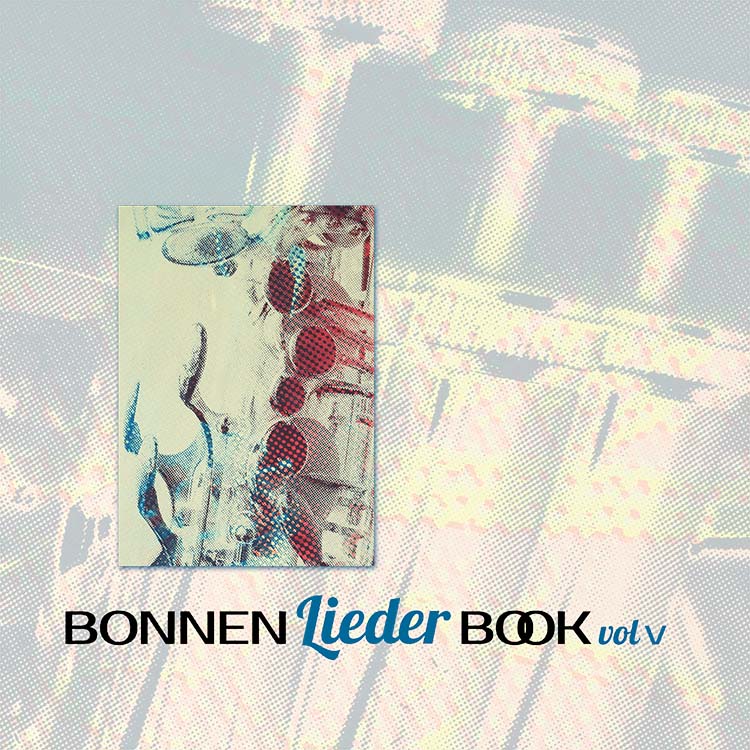 BONNEN Lieder BOOK vol5
A
1 At Twilight/Blues for DL 6'42
music: Dietmar Bonnen; text: Consuelo Sañudo
Bonnen: vocals, piano, glockenspiel
Edina Soriano: vocals
Lothar Burghaus: baritone saxophone
Gagga Deistler: guitar
Tom Gerke: drums
from »You can't judge a record by its cover« 2000
2 Dunkelkammer International 2'10
music: Detlef Mayer, Ramon Luis; text: Detlef Mayer FLEISCH
Bonnen: vocals, electronics
Gagga Deistler: guitar, rhythm arrangements
Axel Peters: tenor sax
Ernst Gaida-Hartmann: Minimoog
Detlev Mayer: bass
from »OBST Almanach des Jahres 2002« 1984
3 All Along The Watchtower 5'51
music/text: Bob Dylan
Bonnen: vocals, piano
Alexei Aigui: violin
from »Up From The Skies« 2002
4 Elements 4'00
music: Dietmar Bonnen; text: Beate + Dietmar Bonnen
Bonnen: vocals, piano
Roman Fuchß: bass
Michael Pape: drums
from »Elements« 2021
5 Mer bade 2'33
music: Dietmar Bonnen; text: Berni Klinkenberg
Bonnen: vocals, piano
Ensemble KLINKENBERGS KÖLSCHE BÜHNE: choir
Ernst Gaida-Hartmann: bass, synthesizer, percussion
from »Uns Kölsche Tön« 1992
B

1 Tonight 3'45
music: David Bowie; text: Iggy Pop
Bonnen: vocals Klaus Mages: davul
from »LiederBook Vol V« 2023
2 Mots Codés 4'51
music/text: Dietmar Bonnen
Bonnen: vocals, piano, memotron, strings
Roman Fuchß: double bass
Michael Pape: drums
from »elements« 2021
3 Big Leg Emma 2'19
music/text: Frank Zappa; arrangement: Pascal Brene
Bonnen: vocals, glockenspiel
Robby Groß: e-guitar
Dett Heidkamp: tenor saxophone solo
Bogdan Ślusarski: drums
DICKE LUFT wind orchester
from »Drop It« 2017 (New Mix 2023)
4 Motherless Child 2'29
music/text: trad.; arrangement: Dietmar Bonnen
Bonnen: vocals
LES SAXOSYTHES: choir
Michael Pape: drums
live in Köln 2004
from »umsomehrzusingen« 2009
5 Gesicht im Regen 8'31
music: Dietmar Bonnen; text: Detlef Mayer
FLEISCH Bonnen: vocals, strings
Ernst Gaida-Hartmann: strings
Gagga Deistler: guitar
Andreas Schilling: double bass
Eckhard Leue: cymbals
Bachtijar Rabimow + Lorena Soriano-Eupen: choir
from »Na ulice doshdik« 1988 (New Mix 2023)
Supported by my longtime musician friend Lothar Burghaus and inspired by my wife
All recordings @ Loft, Cologne: Gagga Deistler (side A #2 @ "Portastudio P 330" 1984); except side A #5: Günther Kasper @ Soundstudio N side B #5: Ernst Gaida-Hartmann (New Mix: Gagga Deistler; Stems: Holger Mantey)
Artwork: Peter Hölscher
Excerpts from the artwork of the cd covers are used for the vinyl front cover [Claudia Betzin] and the labels [A: Charly Pirot, B: Bonnen]
GEMA | c+p Bonnen 2023 | VLB5
Die LP ist bei a-musik zu bestellen: a-musik: Liederbook 5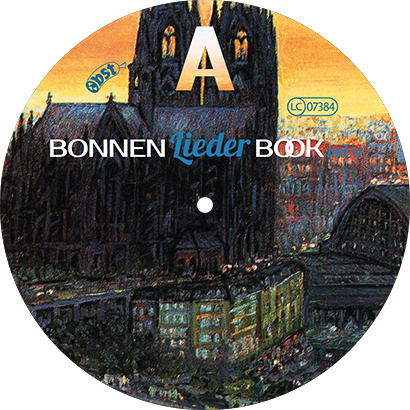 Die Reihe der LiederBooks bringt Zusammenstellungen von Liedern, Songs und Chansons. Eingespielt in den letzten 40 Jahren von unterschiedlichen Ensembles haben sie nur gemeinsam, von Dietmar Bonnen gesungen zu sein. Neu kombiniert, ergeben sich musikalisch und inhaltlich frische Perspektiven. Ergänzt wird die Retrospektive durch ein oder zwei Neuproduktionen für das jeweilige LiederBook.
Außer eigenen Stücken Bonnens erklingen auf LiederBook vol V Interpretationen von Musik so unterschiedlicher Komponisten wie David Bowie, Bob Dylan und Frank Zappa sowie Vertonungen von Texten von u.a. Consuelo Sañudo und Iggy Pop. Die Metapher des Wassers ist übergreifend in mehreren Stücken textlich wie auch akustisch präsent. Während die A-Seite mit der Schleuse beginnt und dem Sprung in die Badewanne endet, klingt die B-Seite mit einem Gewitter aus.
Die LiederBooks erscheinen exklusiv auf Vinyl. Einerseits um dem Medium der musikalischen Sozialisation Ehrerbietung zu erweisen, andererseits um die "musikalische" Form der LP aufzugreifen, eines Albums aus zwei Bögen à gut 20 Minuten.
LiederBook vol V
The LiederBooks series brings together a collection of songs, lieder and chansons. Recorded in the last 40 years by different ensembles, they have only one thing in common, to be sung by Dietmar Bonnen. Combined in a new way, the result is fresh perspectives in terms of music and content. The retrospective is complemented by one or two new productions for the respective LiederBook.
In addition to Bonnens own pieces, LiederBook vol V will feature interpretations of music by such diverse composers as David Bowie, Bob Dylan and Frank Zappa as well as settings of lyrics by Consuelo Sañudo and Iggy Pop, among others. The metaphor of water is present in several pieces, both lyrically and acoustically. While the A-side begins with the sluice and ends with the jump into the bathtub, the B-side fade away with a thunderstorm.
The LiederBooks are published exclusively on vinyl. On the one hand to pay homage to the medium of musical socialisation, on the other hand to pick up the "musical" form of the LP, an album of two arcs of about 20 minutes each.
Ausführliche Informationen zur Vinyl-Reihe >>