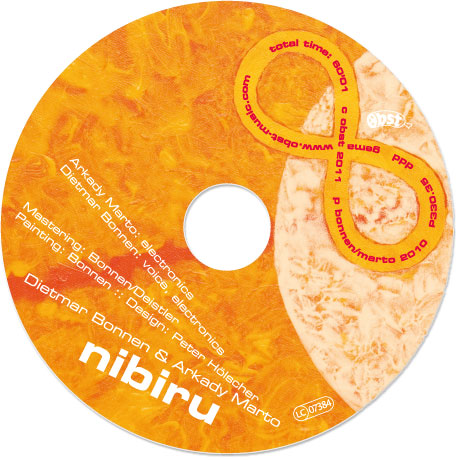 nibiru
Dietmar Bonnen & Arkady Marto
Arkady Marto: electronics
Dietmar Bonnen: voice, electronics
Mastering: Bonnen/Deistler
Painting: Bonnen
Design: Peter Hölscher
Total time: 60'01
DDD GEMA c OBST 2011 p Bonnen/marto 2010
Aus einer einzelnen melodischen Zelle entwickelt und gesungen, wurde die Gesangsspur zum Ausgangsmaterial der dreiteiligen Drone-Komposition von Marto und Bonnen. Das Stück spielt in vielfältiger Weise mit graduellen Klangverläufen und resultierenden internen Rhythmen.
Developed from one single melodic cell and sung, the vocal track built the basic material for the three-part drone-composition by Marto and Bonnen. The piece plays in varied ways with gradually changing sound and resulting internal rhythms.
Multiple: Die CD ist in einer Auflage von 50 Stück aufgelegt. Genau so viele Eisenscheiben haben wir von unserem Hausschlosser brennen lassen. Der Rost auf der einen Seite stammt aus dem Garten des Designers und die glänzende Seite aus der Werkstatt des Bildhauers Peter Hölscher. Der hat das Ganze dann noch fixiert und lackiert und mit einem Filzhalter für die CD bestückt – fertig.
Multiple: The cd is manufactured in an edition of 50. Exactly this number of iron disks were burnt by our favourite locksmith. The rust on the back comes from the garden of the designer and the shiny front from the atelier of the artist Peter Hölscher. Finally he has fixed and varnished the whole thing to equip it then with a felt point to keep the cd in place – done.